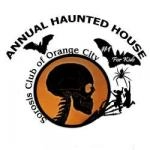 Catch'ems Mad Manor
Orange City Sorosis Club
222 E University Ave, Orange City, FL 32763
Oct. 19th - 28th
This year marks our 45th Annual Haunted House!!
In 1978, the ladies of the Sorosis Club came up with a fundraising idea that has grown into our Annual Haunted House. It was an instant hit for the residents in our community and they look forward to coming back every year. Many local residents have come through as children and are now sharing the experience with their own grandchildren "Catch'ems Mad Manor" will open Thursday, Friday and Saturday nights from Oct 19th through Oct 28th.
Each year our theme is changed to entice our audience and challenge their fears. This year's theme is inspired by a ghost story told to a local resident when he was just a boy. The ghost of cranky, old Mrs. Catchem was said to have haunted his bedroom closet and the attic space above. A new ghost has now joined her. Welcome to Catch'ems Mad Manor where nothing is as it seems.